Friday, November 15, 2019
Testing a new post
This is only a test If this were a real post, there would be something here other than mindless babble and nonsensical blah blah blah. This blog may, or may not, come back to life. If it does, please tune into your local RSS channel for future updates and information. This concludes the test of this broadcast.
Tuesday, April 09, 2013
Monsanto's Dirty Secrets and Lies
Monsanto has been working its way into the upper tiers of American federal government for decades. Now Obama has given them an
order of protection
to be able to continue messing with our food supply - without telling us what they are doing, and being held unaccountable for the damage done to our bodies by these altered, corrupted, hybridized, genetically modified, poisoned foods.
In other words, if you become sick from eating these genetically modified foods, you cannot sue for damages. But, you may not have a choice whether you eat these foods.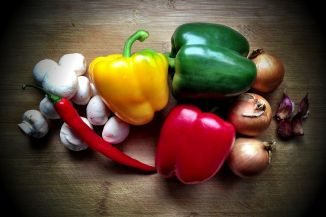 Cancer, obesity, diabetes, heart disease, vascular disease, birth defects and pregnancy complications, brain disorders, mental illness, metabolic and autoimmune disorders ... ALL of these have their roots in the foods we eat. Do you, like I do, suffer from chronic illness caused by an autoimmune disorder? If so, you can thank Monsanto for that ... they put the poison in your food that has made you sick.
And even growing your own food does not help much ... Monsanto has a monopoly on the seeds we buy, which won't germinate unless you use their fertilizers, and which produce sterile fruit and seed which cannot be used to plant the next year crops - so we have to buy more seed from them next year. Only if you have a source of independent, heirloom seed and grow from them without commercial fertilizers and pest control, will your food be not produced by Monsanto ... and even then, they are moving to outlaw the sale and transfer of heirloom seed, so the only source we will have is theirs.
The Monsanto poison can no longer be completely avoided ... it is in the feed given to livestock, in the plants we eat, even in the water supply either from ground water run off or by direct addition of the poisonous fluoride - provided, of course, by Monsanto.
Between 75% to 80% of the processed food you consume every day has GMOs inside, and residues of Monsanto's RoundUp pesticide outside. But it's not just processed food—fresh fruit and vegetables are next: genetically engineered sweet corn is already being sold at your local grocer, with apples and a host of other "natural" produce currently in field trials.
We can only hope to minimize our exposure to these toxic foods, but we need to know what's in our foods and have viable alternative sources in order to do so. Monsanto is going to fight our right to choose not to eat their foods every step of the way ... until we are too sick to fight or dead.
Tuesday, March 26, 2013
Oh hey ... Hi There!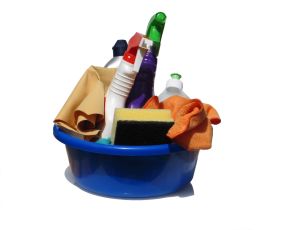 Wow. This place sure is dusty ... and needs a good renovation.
I'm thinking this place needs a coat of new paint on the walls and trim ... and the furniture re-arranged. Just a total do-over ...
So, is my RSS still in anyone's feed reader still? Is anyone out there?
Monday, May 02, 2011
This is a party I will skip
P
ardon me as I make my exit from this party, I really don't wish to participate in a celebration of death.
Life is precious, whether it is an inconvenient fetus, a precious and welcomed child, a Godly and righteous Christian, a lost atheist or a global terrorist. We are all the same in God's eyes.
Now don't get me wrong, I am as angry over the atrocities of 9/11 as anyone else, as well as all the other terror attacks perpetrated by these savages. I am as harsh of a critic on Islam as anyone could ever be. I do believe that Osama Bin Laden was the mastermind and chief architect of 9/11 and bears full responsibility for the deaths, injury and damage he and his cohorts inflicted upon all of us - that is, the entire civilized world. And I believe that Islam is the antithesis of Christianity, and is evil through and through.
But as a Christian, I cannot and will not celebrate the death of anyone, especially not with the jubilant joy that is on display in the streets of America. To me, it is every bit as ghoulish as the Palestinians that handed out sweets after the murder of an Israeli family, killed while sleeping in their beds, all of them, including a 3 month old baby.
Celebrating death is not something civilized people do. Not even when it is justified and well-deserved. Yes, it is a good thing that he can no longer perpetrate evil in this world and cause further death and misery to those he deems his enemy. I do understand the dangers with capturing and imprisoning him. But killing him will change what exactly? Al Qaida will carry on, doing their evil in the world. A new leader will step up eventually and take the reins. If anything, Bin Laden's death will breathe new life into the fervor and rage of the Islamists around the globe.
Shortly after I first heard the news, I saw a post on Facebook from a pastor whom I greatly admire. He said, "Remember Beloved, God has no pleasure in the death of the wicked. Ezekiel 18:23." and "Harsh, godless responses to UBL's death are easy, not appropriate, natural, not spiritual. Watch your heart and tongue Christian."
Ezekial 18:23 reads: Have I any pleasure in the death of the wicked, declares the Lord GOD, and not rather that he should turn from his way and live?
Thank you, Pastor Steve, for helping me put to rest the conflict in my heart and to face this with a Christian attitude.
On the way to work today, I listened to K-Love, a Christian radio station. Many callers were sharing their thoughts. This one struck me, and I posted it to my Facebook wall:
Only one man's death ever changed the world, and we celebrated that a week ago.

"For if, by the trespass of the one man, death reigned through that one man, how much more will those who receive God's abundant provision of grace and of the gift of righteousness reign in life through the one man, Jesus Christ!" --Romans 5:17
And this:
"Though I celebrate the fact that Osama bin Laden will never commit another act of terror, never bomb another embassy, never give another hate speech, never blow up another building, never train another terrorist, never hijack another plane, never take another innocent life, I refuse to celebrate his death, for to do so would be to embrace the same hatred that fueled these heinous acts." ~Randy R. Reed©
In God's eyes, each one of us is both as righteous and as wicked as the next. We are all sinners, we all fall short of the glory. The difference between those who will see the Kingdom of Heaven and those who will not is not God's esteem for us, for he has offered each and every one of us the same gift of salvation, but that each of us has made the choice to follow Christ and be saved, or not and be condemned for eternity.
We should never, ever celebrate what is surely a lost soul being condemned to the fires of Hell. Over and over, the Scriptures tell us that judgment of sin is for God, and God alone.
[10] Why do you pass judgment on your brother? Or you, why do you despise your brother? For we will all stand before the judgment seat of God; [11] for it is written,

"As I live, says the Lord, every knee shall bow to me,
and every tongue shall confess to God."

[12] So then each of us will give an account of himself to God.

(Romans 14:10-12 ESV)
Today, instead, my thoughts and prayers are with the people recently affected by the tornadoes and thunderstorms that tore through the South last week, and with the people of Nashville, who suffered horrific floods one year ago today, and as always, with those around the world suffering poverty, cruelty and terror.
God is in control, and His Will be done.
Amen.
Wednesday, February 02, 2011
Pragmatic Project Management
O
ne of our clients is getting ready to make some upgrades in their implementation of the product we support. Prior to making these changes, they have analyzed all of the issues they have experienced, and with our assistance, found either resolutions or work-arounds and created an action plan. This particular bullet point struck us as rather amusing ...
5. Delay in execution of Report

a. Risk: Execution of reports have a long delay the 1st time you go into this module. Subsequent reports do not have a delay.

b. Cause: Report Logic and data is being cached into memory during the 1st report execution.

c. Work Around: Train staff on how to be patient. The report will run, but it may take a few minutes before you see the results.
We are hoping that they can share this particular training plan with us.
Tuesday, February 01, 2011
Why I got fat; And I what I am doing about it
I
have been posting on Facebook about my weight loss efforts, and after having posted a before and work-in-progress pictures, I am sure there are some folks that are a bit surprised, shocked even, to see what has become of that little, teeny, skinny chick you used to know ... you know, ladies, the one you used to mentally hiss at as I swung by in my itty bitty size 2 jeans. I will be upfront - in the last 7 or 8 years, I put on about 60 pounds. Yup ... you got that right - SIXTY pounds of flabby blubber hangin' off my once incredibly hawt bod. It's OK, you can gloat. Now get over it and pay attention ... this is important.
OK, this is the me that used to be ... weighing probably about 110 - 115 pounds. Those are Guess jeans, waist size 24. I normally wore a size 2 and my waist measured 22 inches.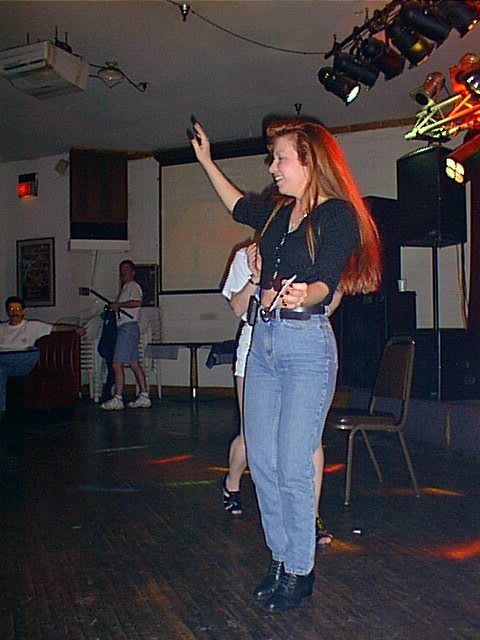 That was on my 35th birthday - 1999. I stayed about that same size until sometime around 2003. By 2009, when I got married again, this is what I looked like ... my dress is a size 14, and only by the grace of God and Spanx was I able to squeeze into it that day.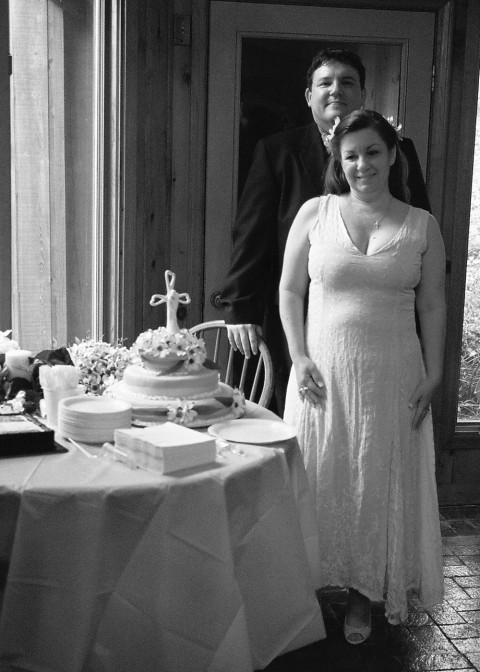 Ughhh ... I know, right?
So, what the heck happened? How in the world could a slender young woman who could eat anything she wanted without gaining an ounce get to look like a fat cow? Holy crap ... that's ME and I still can hardly believe it!
Well, in a nutshell, what happened to me is low fat diets. And what got me on that low fat diet was too much processed convenience foods, too much refined flours, too much sugar, and not enough fat. That's right ... NOT ENOUGH FAT. If you want the detailed explanation of that, check out this book,
Why We Get Fat: And What to Do About It
by Gary Taubes.
He could have written that book about me and my weight gain adventures. Seriously. And if you are avoiding natural fats in your diet to keep your weight down, or to lose weight, you really need to read that book too.
Long ago, when I would find that a few pounds creeping on, or my jeans getting a bit snug, my go-to eating plan would be chicken, rice and broccoli for dinner every night for a week or two, and I would skip the ice cream and other treats too. It worked. Then. But then a good bit of weight showed up, and I had to get serious about it. My parents had gone on the American Heart Association Heart Healthy diet and lost an amazing amount of weight. So, I sort of followed suit, but I had no idea what I was doing. I just went for low fat ... if it had no fat, it was all good. Rice, pasta, pretzels, even Tootsie Rolls were allowed. But no butter, oil, cheese, ice cream and the like. I would lose some weight, go back to my regular habits, then it would come back. Lather, rinse, repeat. Factor in also that my lifestyle changed - I was no longer working on the ambulance, burning hundreds of calories every call, every shift. I was sitting at a desk all day ... blithely munching away on Tootsie Rolls and Bit O' Honeys all day, then going home and cooking a meal fit for a teenage boy. Plus ice cream for dessert ... low fat ice cream, that is.
So, five ... ten ... fifteen pounds crept on. Then when it became 20, 25 I became mildly concerned. But not really ... at the same time, I completely lost interest in dating. No, that's not quite right ... I became downright hostile towards the idea of being involved with anyone romantically. So I was fat, that just kept the jerks away from me.
Well, times and attitudes change, and the good Lord led me to a good man and that's all been written about before. But at the same time, I found myself caring very much about my appearance again, now that I had someone to look good for. We were engaged, and I was 40 pounds overweight. I was having so much fun being in love, I scarcely noticed that another 20 pounds crept on! In the 3 months leading up to the wedding, I busted my ass in the gym three nights a week, and I counted each and every gram of fat that crossed my lips. It was a carb free for all though. And I weight exactly the same on my wedding night as I did 3 months before. When I got the wedding pictures back, I wanted to die. I could not believe how gross I had gotten to be.
Emotionally devastating ... oh yeah. But I plugged on, following the recommendations for a healthy diet that would lead to weight loss as promoted by the Department of Health, the USDA, WebMD, my personal physician and just about every Tom, Dick and Harry that I would ask. Eat less, eat low fat foods, exercise more. I did as instructed and the scale remained right where it was. Eventually, I nearly gave up.
Then something happened that completely rocked my world (which is very private and personal, so don't ask ... ), and I knew that I had to do something and quickly. Everything I hold dear on this earth depended on my losing this gawd-awful blubber that had accumulated on my skinny self. Being somewhat OCD, I needed a highly structured plan that I could count on - today I will eat this, this and this. So, I got on the Medifast plan. It's like Nutrisystem - food is ordered and delivered to the house, five meals a day plus one "lean and green" meal that we cooked. Rich got on the plan too - as you can see from the wedding picture, he had a pound or two to lose too.
It worked, somewhat. My loss was very slow. The plan boasts an average of 3 to 5 pounds a week. I was losing less than 2. (Rich, on the other hand, was losing 5 to 8 pounds a week!) Though stressful, depressing and disheartening, I carried on. In 4 months, I have managed to lose about 30 pounds. That's still 30 more than I was in the first picture, but I was no longer obese, as classified by my BMI. My waist has gone from 38 inches to 30. I can wear size 8 jeans again, after being in 14s for the last couple of years. Light at the end of the tunnel, but still so far away ... and I was feeling like crap most days, with no energy, fighting the depression and general malaise. My skin broke out, hair is thinning, and other changes were taking place in various bodily systems that were disturbing at best, at times agonizing.
And then I came across Gary Taubes' book, and then another one,
The Perfect 10 Diet: 10 Key Hormones That Hold the Secret to Losing Weight and Feeling Great-Fast!
. Reading these, it finally all fell together and I figured out what had happened to me ... the low-fat diet, along with the processed, refined grains and carbs that acted together to wreck my metabolism and pile the weight on me. Even the Medifast diet is horrible, nutritionally speaking. Eating 800 calories a day, with less than 30 grams of fat, most of it engineered food and the majority of the protein coming from soy isolate protein is not good for any body. Mine is in full rebellion. The only good part is the weight I have lost, and that I have "detoxed" off of sugar and refined carbs.
I am going to start eating according to the information in these two books starting next week. Why wait until then, I don't know, other than I need time to plan and shop and reorganize my kitchen and life. I know now that what I have been doing has been all wrong ... totally wrong. I have been lucky in that I only put on weight. I could have become diabetic, developed cancer or serious heart disease. I already have heart arrhythmia and some blood imbalances with Vitamin D and iron. I hope it's not too late.
The Perfect 10 diet is one that I am familiar with ... eat whole, natural, unprocessed foods, including fats and oils. Carbs are not restricted, but eaten in moderation from vegetable, fruit and whole grain sources. Organic, preferably. Why familiar? Well, back when I was earth-mama with little babies, wearing Birkenstocks, keeping an organic garden, making all our bread myself from whole grain flours, buying our food from a whole-foods co-op, I lived that lifestyle ... and despite having one babe after another, eating as I pleased - from good, whole, natural foods - I lost pregnancy weight quickly and without even trying. And I stayed slim even after moving away from that way of eating for years ... until I started following the doctors and nutritionists recommendation to limit fats in my diet.
So here I am, 4 months ago and now ...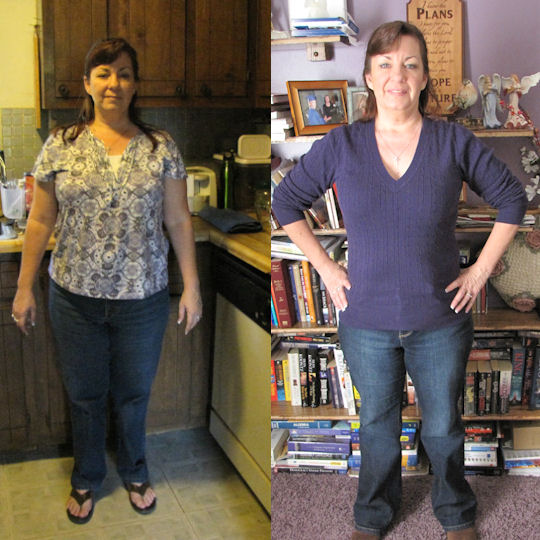 Check back later to see what happens next. Oh, and Rich's weight loss? He's blogging about it at
his site
... go check it out.
Please read those books ... most likely, what you think you know about good nutrition and weight loss diets is all wrong, especially if you got it from the government. Seriously, what you don't know could kill you.
Monday, November 22, 2010
I want your text, baby ... or very serious undertakings
S
o, two of Rich's daughters are expecting baby girls within a few weeks of each other this coming winter. They decided to have their baby shower together, today, while the out of town sister was here for Thanksgiving. We've been crazy busy with the bathroom renovation and generally getting the house ready for the holidays, and I hadn't had time to shop. So, I went today on my lunch break ... and sent a text to Rich to let him know that I did so.
I'm thinking our communication skills are a bit .... lacking ..
Me: I went shopping on my lunch hour ...
Him: What did you get?
Me: Just a few little things
Him: Like ... ?
Me: VERY little things
Him: Like ... ?
Me: Like ... little pink things
Him: 😊
(Can you see where this is going yet?)
Me: Like ... little tiny, soft pink things with bows and flowers and frilly stuff that makes grown women go SQUEEEE!!!
Him: How about grown men???
Me: Well, the ones around here (My team is all men, 'cept me, of course) generally went "Hmmmphf!"
Me: A couple rolled their eyes
Him: ????
(At this point, I knew we definitely had a failure to communicate ... )
Me: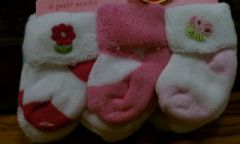 (A number of minutes go by ... )
Me: What the heck were you thinking???
Him: Lacy frilly undertakings!
Him: Underthings!
Him: I hate predictive text
Me: (After picking myself up off the floor, wiping the tears from my eyes and catching my breath ... ) Well, either one works ...
Wednesday, November 17, 2010
Husbands and Shopping - a Bad Combination
Being still fairly newlywed, Rich and I like to spend as much time together as possible. He even accompanies me on shopping trips, although he does still balk at shoe shopping - but that's a story for another time. However, I may need to rethink the wisdom of letting him come with me, given how he is both very clever and easily bored. The management of one of those big box stores was not amused at his antics, and according to the letter I got, neither of us is welcome back in that store.
Here is the letter* ...
Over the past six months, your husband has caused quite a commotion in our store. We cannot tolerate this behavior and have been forced to ban both of you from the store. Our complaints against your husband are listed below and are documented by our video surveillance cameras:

1. June 15: He took 24 boxes of condoms and randomly put them in other people's carts when they weren't looking.

2. July 2: Set all the alarm clocks in Housewares to go off at 5-minute
intervals.

3. July 7: He made a trail of tomato juice on the floor leading to the women's restroom.

4. July 19: Walked up to an employee and told her in an official voice, 'Code 3 in Housewares. Get on it right away'. This caused the employee to leave her assigned station and receive a reprimand from her Supervisor that in turn resulted with a union grievance, causing management to lose time and costing the company money.

5. August 4: Went to the Service Desk and tried to put a bag of M&Ms;on layaway.

6. August 14: Moved a 'CAUTION - WET FLOOR' sign to a carpeted area.

7. August 15: Set up a tent in the camping department and told the children shoppers he'd invite them in if they would bring pillows and blankets from the bedding department to which twenty children obliged.

8. August 23: When a clerk asked if they could help him he began crying and screamed, 'Why can't you people just leave me alone?' EMTs were called.

9.. September 4: Looked right into the security camera and used it as a mirror while he picked his nose.

10. September 10: While handling guns in the hunting department, he asked the clerk where the antidepressants were.

11. October 3: Darted around the store suspiciously while loudly humming the ' Mission Impossible' theme.

12. October 6: In the auto department, he practiced his 'Madonna look' by using different sizes of funnels.

13. October 18: Hid in a clothing rack and when people browsed through, yelled 'PICK ME! PICK ME!'

14. October 21: When an announcement came over the loud speaker, he assumed a fetal position and screamed 'OH NO! IT'S THOSE VOICES AGAIN!'

And last, but not least:

15. October 23: Went into a fitting room, shut the door, waited awhile, then yelled very loudly, 'Hey! There's no toilet paper in here.' One of the clerks passed out.
I just can't take him anywhere ....
*Yes, this was stolen from somewhere. It's still funny ... and can't you just see Rich doing many of these things?!
Monday, November 01, 2010
Turn Around ...
Where are you going my little one, my little one
Where are you going, my baby, my own?
Turn around and you're two,
Turn around and you're four,
Turn around and you're a young girl going out of my door.
Turn around, turn around,
Turn around and you're a young girl going out of my door.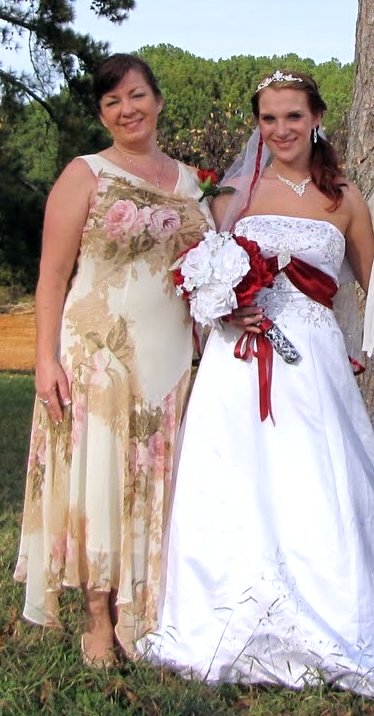 Where are you going, my little one, little one,
Little dirndls and petticoats, where have you gone?
Turn around and you're tiny,
Turn around and you're grown,
Turn around and you're a young wife with babes of your own.
Turn around, turn around,
Turn around and you're a young wife with babes of your own.
Friday, October 08, 2010
Do Over
Just in case anyone reads this thing anymore, I have updated the software that runs the site, and in the process, I am cleaning up the server and getting rid of some old stuff that I don't need on here. I will probably redesign the site along the way and get a better defined focus, Stay tuned!